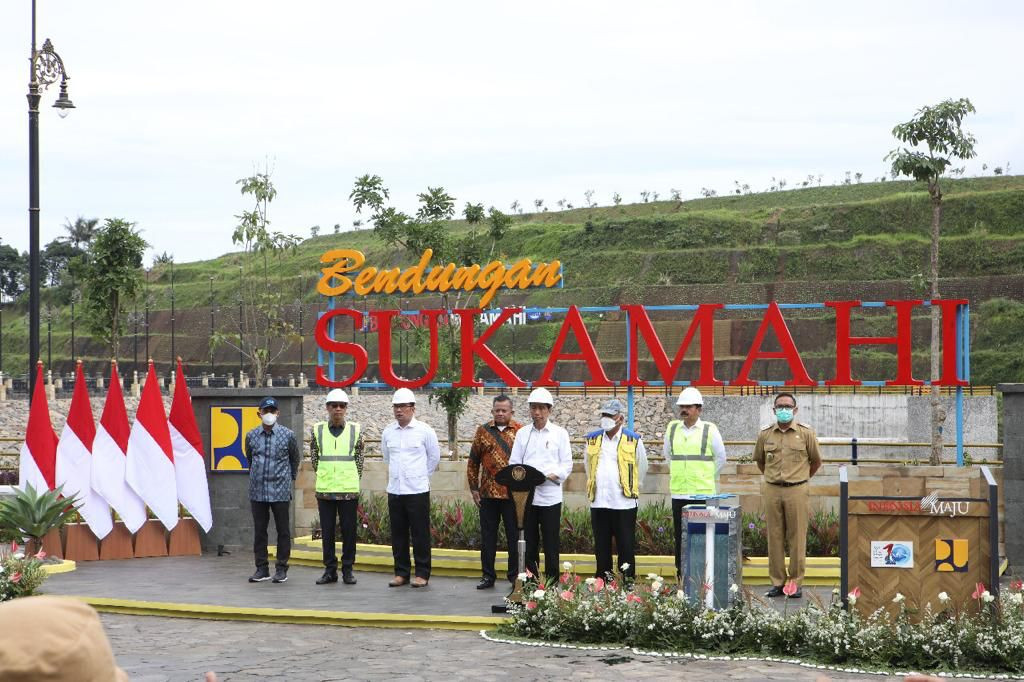 President of The Republic of Indonesia Joko Widodo Inaugurates The Sukamahi Dam 
President of the Republic of Indonesia Joko Widodo inaugurated the Sukamahi Dam which was witnessed by Public Works and Housing (PUPR) Minister Basuki Hadimuljono, Governor of West Java Ridwan Kamil, Stuntman Governor of DKI Jakarta Heru Budi, Director General of Water Resources of the Ministry of PUPR, Djarot Widoyoko, along with WIKA President Director Agung Budi Waskito. 
The Sukamahi Dam is Indonesia's first dry dam, built to only store water when it rains. The dam has a capacity of 1.68 million cubic meters and an inundation area of 5.23 hectares, reducing floods by 15.47 cubic meters per second. This dam was constructed to prevent flooding in the DKI Jakarta area by capturing rainwater that flows upstream of the Ciliwung river. 
President Joko Widodo stated during the ceremony that the Sukamahi Dam and Ciawi Dam, which were both inaugurated on the same day, were expected to reduce floods in Jakarta by around 11.9%.
The Ministry of PUPR, through the Directorate General of Water Resources, appointed PT WIJAYA KARYA (Persero) Tbk (WIKA) and PT Basuki Rahmanta Putra to collaborate in joint venture (JO) as the project's implementing contractors. WIKA's President Director, Agung Budi Waskito, disclosed that during the construction, WIKA JO made numerous breakthroughs, beginning with work methods and materials developed through analyses of the project area's features. The breakthrough was then able to generate reinforcement of the heap side and speed up the work procedure. 
Agung BW subsequently stated WIKA's dedication to support flood management in Jakarta by taking part in the building of the Ciliwung Sudetan project as the implementing contractor. With his expertise in technology and human resource experience at WIKA, he believes the project can be completed successfully and provide the advantages anticipated by the Jakarta government and people.