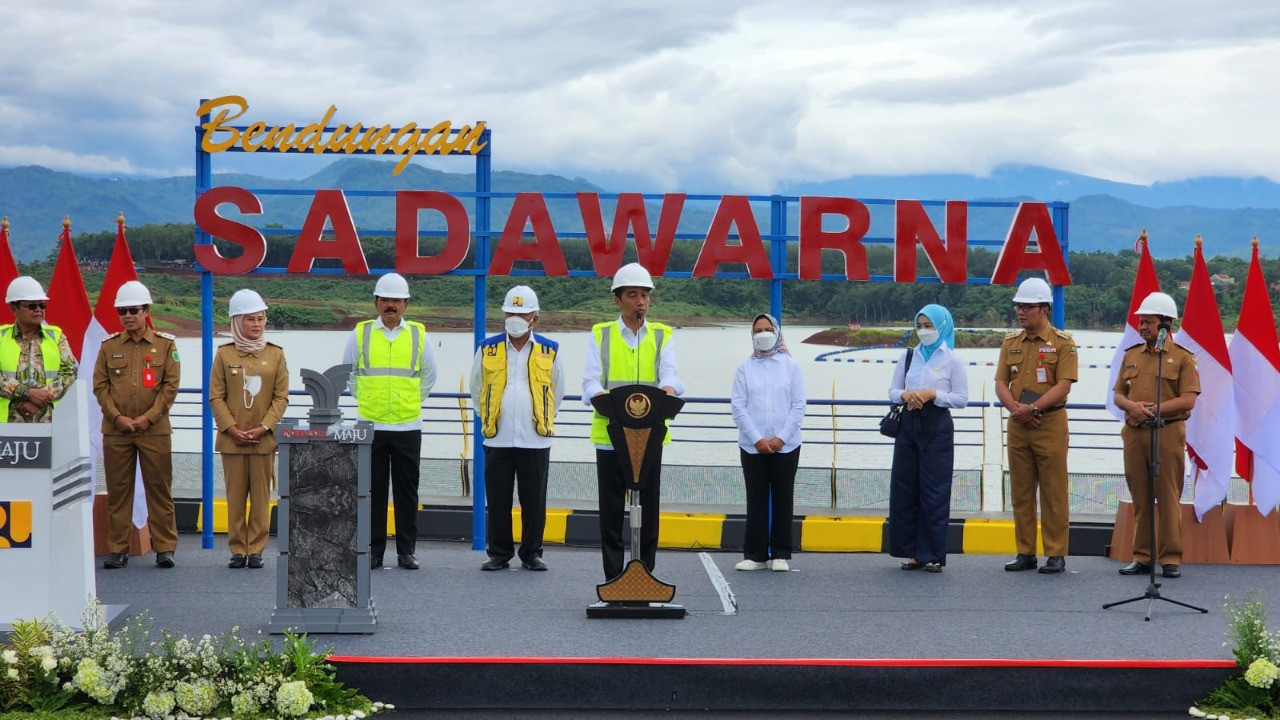 Indonesian President Joko Widodo inaugurated the Sadawarna Dam, Sumedang Regency, Tuesday (27/12). The inauguration was also attended by Minister of Public Works and Public Housing, Basuki Hadimuljono, Minister of Agrarian Affairs and Spatial Planning Governor of West Java, Ridwan Kamil, Director General of Water Resources Djarot Widyoko, Subang Regent, H. Ruhimat, Sumedang Regent, Dony Ahmad Munir and Indramayu Regent, Nina Agustina Da'i Bachtiar and President Director of WIKA, Agung Budi Waskito.
President Joko Widodo said that the Sadawarna Dam was the 33rd dam which had been inaugurated 8 years ago. The dam, which has an inundation area of 695 hectares, is capable to irrigate 4,280 hectares of rice fields in Subang and Indramayu Regencies.
This 933 metres long dam has a total water reservoir of 70.86 million m3, with an effective storage volume of 42.11 million m3. Apart from irrigating rice fields, the Sadawarna Dam will be effective in dealing with flooding in the Pamanukan area and its environs.
WIKA, which has consolidated in a joint operation with PT Daya Mulia Turangga and PT Barata Indonesia (Persero), was designated as the package I implementing contractor by the Ministry of Public Works and Public Housing. With a 70% portion of the work, WIKA has entrusted for carrying out the Main Construction which includes Dam Body Works, Canal Works Conduit Type Avoidance, Intake Building Work, also Hydromechanical Work.
This is the second time WIKA has inaugurated the dam by the President of the Republic of Indonesia, Joko Widodo, in less than a week. Previously, Indonesian President Joko Widodo has inaugurated the Sukamahi Dam which was built by WIKA-Basuki KSO on December 23, 2022. Agung Budi Waskito said that the inauguration demonstrated WIKA's expertise in dam infrastructure building.
"40 dams have been included in the Company's portfolio. This is a turning point in WIKA's determination to accomplish numerous projects, particularly the dam project handed to WIKA by the Public Works and Public Housing Ministry," stated Agung Budi Waskito.